Track & Field Coaches
2016-2017
Head HS Boys & JH Boys: Jim Sake jsake@palmer.esu7.org
Head HS Girls: Jim Chvala jchvala@palmer.esu7.org
Amy Scheil ascheil@palmer.esu7.org


2013
Coach Jim Chvala enters his 22nd year coaching track and field, 17 of those at Palmer High School. After serving as an assistant coach to Todd Maschino in the 1996 track season, Chvala was elevated to the position of head boys' and girls' coach of the program in 1997, and currently works with the jumpers and middle-distance athletes. With the help of Arlo Bockerman, Nathan Glause, and SiAra Rasmussen, the Tigers earned top 25 finishes three years in a row at the Nebraska State Championships: 2010 (6th), 2009 (15th), and 2008 (21st). The Lady Tigers finished in the top 25 four times since 2005: 7th in 2007, 10th in 2009, 21st in 2005, and 22nd in 2008. A 1991 graduate of Wayne State College with degrees in Spanish and geo-studies, Chvala was a four-year letter winner in track and field. He earned technical certification in February at the USATF Track & Field Academy. Coach Chvala and his wife Kirstine reside in Palmer.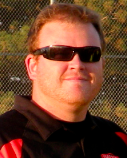 Coach Jim Sake
2013
Coach Sake is entering his first year as an assistant track coach. The past three spring seasons Mr. Sake was a pitching coach and an assistant varsity baseball coach at South Sioux City (2010-11) and Grand Island Senior High (2012). While at South Sioux, Mr. Sake helped his teams to a district championship and Class B State Tournament appearance, as well as a district runner-up the following season. Mr. Sake also served as an assistant coach for Palmer-Wolbach-Greeley-Spalding Junior Legion baseball in the summer of 2012, helping the team to a district championship and a trip to the state tournament. Coach Sake spent the fall and winter of 2012 volunteering as assistant coach for football and boy's basketball at Palmer. In 2013 he has been busy, working as a assistant coach in high school football and boys' and girls' basketball, and head coach for the junior high football, girls' basketball, and boy's track programs.
Mr. Sake graduated from Wayne State College in 2009 with a K-12 degree in physical education and a coaching minor. While at Wayne Mr. Sake played on 5 NSIC regular season champion teams as well as several conference tournament championship teams, and helped the Wildcats qualify for regional tournaments all five years. After graduation Mr. Sake worked as a substitute teacher and a coach. He lives in Palmer and is in a long-term relationship with Miss Keough.