More about Jim Chvala
Jim Chvala's most recent professional development activities
Nebraska Distance Learning Association Conference - March 2014
ESU 10 Días de los Muertos Distance Education Enrichment - Presenter - October 2013, 2012
Distance Learning Equipment Training - July 2013
Google Summit - July 2013
Ron Clark Training in Atlanta, GA - June 2013
Nebraska Distance Learning Association Conference - March 2013, 2012
Nebraska International Language Association Conference - October 2012, 2011, 2007, 2006, 2005, 2004
Nebraska Association of Teacher of Spanish and Portuguese Immersion - October 2012, 2007, 2006, 2005, 2004,
Nebraska International Language Association Executive Council Meeting - October 2007
SobreMesa Roundtable Meetings - 2005-2007
Nebraska Association of Teacher of Spanish and Portuguese Vice President - October 2004 - October 2007
UNL Immersion Activity (Linguafolio) - Summer 2006
Central Community College Learning Center Manager Inservice - July 2005
ESU Technology Inservice - August 2005
More about Jim Chvala's professional and educational goals
As a result of earning the Master of Science in Educaton degree in Instructional Technology Chvala will…
...optimize the delivery of content, feedback, and use of meaningful activities for students who enroll in his distance and face-to-face courses
…improve communication with his distance and face-to-face students
...help maximize the use of educational technologies at his schools
…improve his personal organization of and utilization of various technology resources in individual and cooperative learning situations
...complete sufficient instructional credits to meet his school's professional growth standard and to renew his teaching certificate in summer 2015
...assemble a technology-rich quarter-long Spanish curriculum for his school's newly formed junior high Exploratory Spanish course
…create opportunities for his students to engage with students from other parts of the world
…help his students create electronic portfolios of their work in Spanish class
The MSE degree will help Jim Chvala in achieving his long term professional and educational goals. His primary goal, professionally, is to become a resource person for the distance education community. Early on in his distance education career, he received a lot of support from ESU 10, and John Stritt, in particular. With John's help and continued support Chvala learned the basics to teach at a distance. When his wife got sick his drive for improving education was interrupted, but the support from John and others continued to be there. Therefore, one of his long-term goals is to be able to give back to distance educators. This can be partially achieved by making one or more presentations at education conferences.
Jim Chvala go to educational conferences on a fairly frequent basis and sees his peers presenting material and strategies in order to help others. Jim would like to be one of those people; He wants to be a producer or a producer/consumer when it comes to the improving the education profession. He regularly attends conferences sponsored by the Nebraska Internatiional Language Association and the Nebraska Distance Learning Association. Both of these organizations continually look for people from the ranks of their respective memberships to present at their conferences...Jim wants to be one of those people. Meeting the MSE degree goals he has set forth above will prepare him for presenting at conferences and help put him in position to increasingly become a resource person for the DL community. Jim Chvala enjoys teaching, but, if he is called to take more of a lead role in teaching with technology, he will be prepared.
Ways in which Jim Chvala uses various technology tools
ANGEL (MyELearning.org) to provide video, resource content, and assessments in the online component of his classes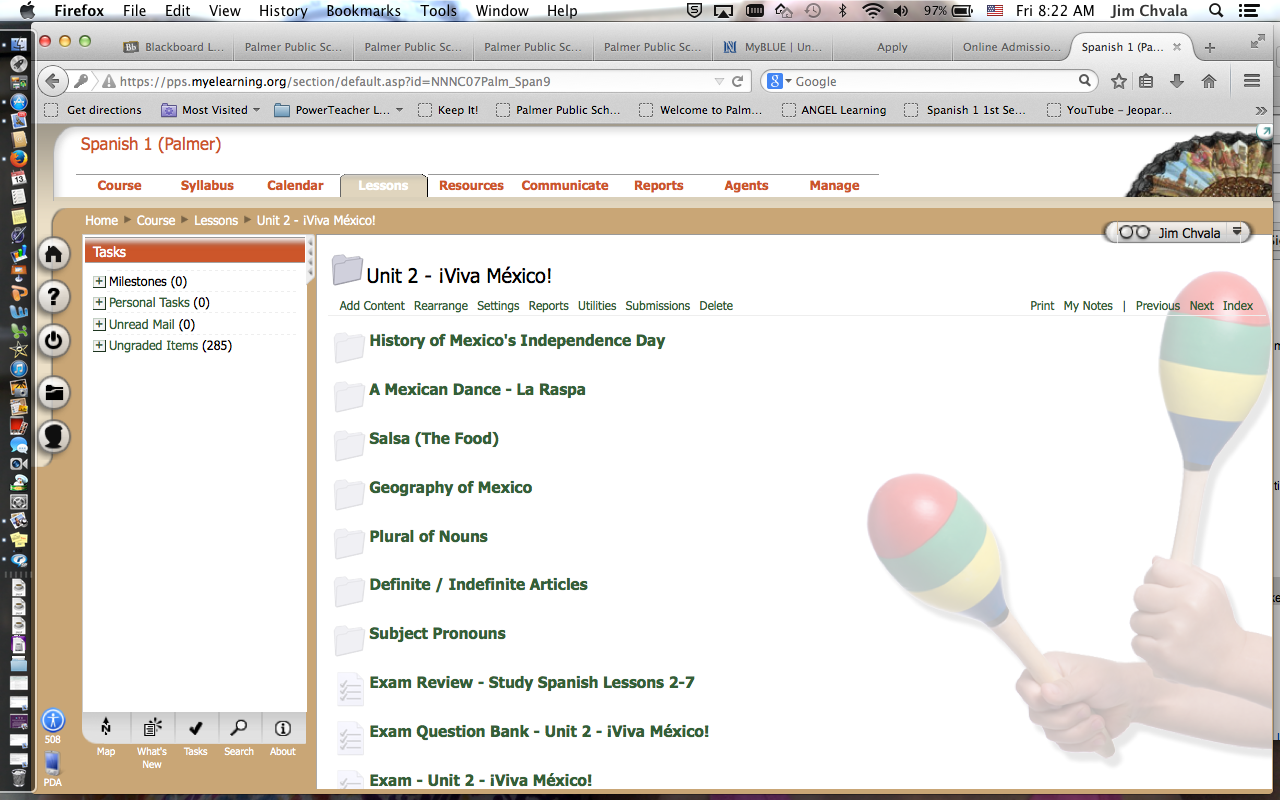 Internet to access video, dictionaries, and other educational resources (Click on a link below to see sample videos)
Classtools.net to create study materials via game format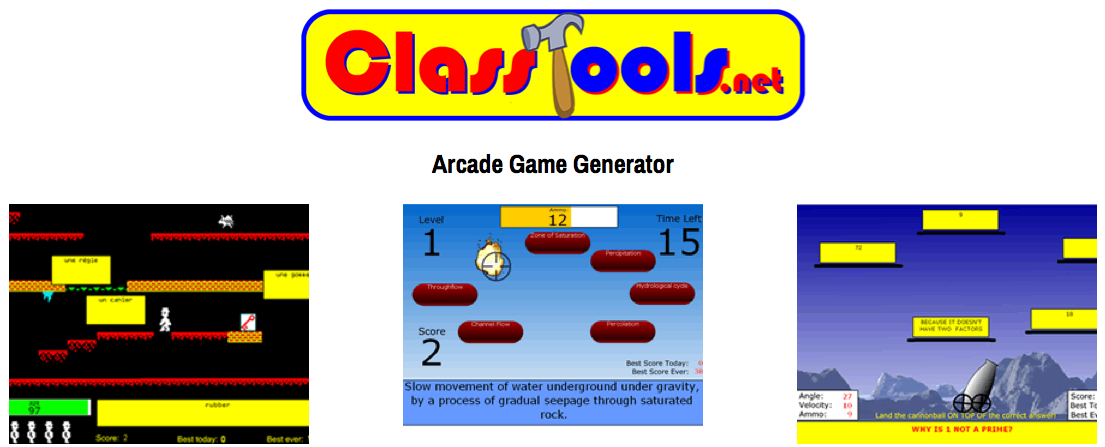 PowerPoint and Keynote to create learning for students (slideshows, fill-in slideshows, Béisbol, Greeting / Good-bye slideshows, etc.) Descriptions PowerPoint Example
iMovie to document student experiences
E-mail to deliver content to receiving sites
Spreadsheets to organize material (school records, RCA March Goal, salary information, etc.)
Word and Pages to create and edit letters, certificates, learning materials and activities (VERBO), and board games
GoogleDocs and GoogleCalendar to share documents and to communicate
More about Jim Chvala's experiences with diversity
With an increasing population of Latino families in Palmer, Chvala has provided interpreter services at the office and parent/teacher conferences, translated letters and forms (Who's Who), and done limited interpreting for a UNL / PHS project. He tries to faciliate the families involvement in their children's education and to provide clear information for the school's personnel.
As a house sponsor, Jim Chvala works with mixed groups of K-12 students one or two times per month. The disparity in ages in the groups, along with the wide array of backgrounds the students come from have the potential to make things rather rocky, but with the quality staff and students at Palmer these groups tend to function well.
Jim Chvala spent two weeks each of the past two summers driving a student with a communication disability to and from Grand Island for the summer school program. Tone of voice, eye contact, body language, and listening closely were all key in understanding the wants and needs of this student.
Chvala has coordinated class field trips to 4th Street in Grand Island to experience Hispanic businesspersons, markets, food, and products. In preparation, he communicated with Latino business-owners, students, administrators, class proctors, and parents regarding the plans and expectations.
This past May, I attended the graduation reception of a student whose father works with persons from Laos. His co-workers were cooking fish over an open fire and visiting while folk music played in the background. I spent a lot of time visiting with those guys and with the graduate.
A group home is located in Palmer. JIm Chvala runs the local learning center from Central Community College through which some of the residents have taken courses. They bring a unique set of challenges to the education table that need to be negotiated.
As a coach for Palmer's Destination Imagination team, Chvala worked primarily with high ability learners. They ranged from very logical and disciplined thinkers to those who were highly spontaneous. It was sometime a challenge to bring them all onto the same team and keep them working forward given there varied approaches to get to the same goal. They really needed to come to understand, or at least tolerate, the difference each person brought to the table.

Personal
Jim Chvala and his wife Kirstine live in Palmer, Nebraska with our five cats. His summertime activities include managing their 1.2 acre yard/garden/orchard, running, and kayaking. Kirstine and Jim also enjoy local travel and events.