Military Appreciation
Military Families
On behalf of our entire school community, welcome to Palmer Public School, a Nebraska Distinguished Purple Star School. We are honored to serve you and your family. This webpage contains information related to our school and how we can best meet your needs. Our school is thankful for all our current, past, and future military members, and their sacrifices.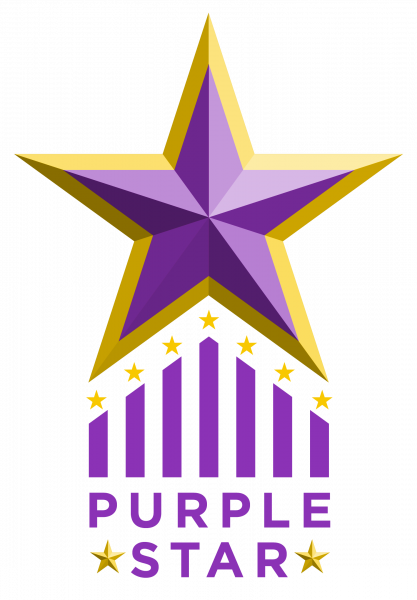 Learning more about Palmer School
To learn more about Palmer Public School, please feel free to contact the school at (308) 894-3065. We would be happy to answer your questions and/or set up a tour of our facilities. If you have any questions throughout the process, feel free to contact:
Luke Thompson, Military Liaison: lthompson@palmer.esu7.org
Sherise Loeffelbein, Elementary Principal: sloeffelbein@palmer.esu7.org
Greg Morris, Secondary Principal: gmorris@palmer.esu7.org
Dr. Joel Bohlken, Superintendent: jbohlken@palmer.esu7.org
Touring Palmer School
Please don't hesitate to schedule a tour of Palmer School. It would be our pleasure to show you and/or your student around, and help acclimate you to the school and familiarize you with the PPS family.
Communications
PPS shares information about our school and activities on Facebook and Twitter. When you register with Palmer Public School, you will be asked for your email address(es) to be included in our Student Information System. This will ensure you receive messages sent by Palmer Public Schools through the Swift K12 Automated Communication System. If you are so inclined, you can also sign up to receive ebulletin email messages from Palmer Public Schools.
Academic Planning
A Palmer Staff Member will personally walk you and your child through academic planning for the school year and beyond. Our school counselor will lead the efforts to ensure all your needs are met.
Carissa Valasek, Elementary Counselor: cvalasek@palmer.esu7.org
Asia Trout, Secondary Counselor: atrout@palmer.esu7.org
Information on school requirements and course offerings can be found in our student handbook.
Events
Every year, our school's Veterans Day and Memorial Day Programs are huge events where our whole school and community gather to show our respect for veterans and learns about military members and events. Palmer Public School recognizes November as Military Family Month. Watch our Veterans Day Program video recognizing our community's veterans.
Community Information
Palmer is also the proud home of the Veterans Memorial Park. Find information about the Memorial here. Burton-Beyer American Legion Post #120, American Legion Auxiliary Post #120, Sons of the American Legion Post #120 are located in Palmer. To learn more about the community of Palmer, please go to: Village of Palmer.
Additional Information
Additional resources can be found at the National Military Family Association webpage. The Department of Defense provides toolkits for military families that explain the rights and resources involved in the Compact on the DoD Interstate Compact webpage.